Many children love to dress up and some of them have very specific ideas about what the costume should look like. Fairies (what is the male form of Fee? Feeerich?) are very popular, for example. Of course, the right wings should not be missing. One option is to buy the appropriate outfit. Another is to design it yourself and thus implement individual wishes. With our instructions you can make fairy wings – and this also applies to those who may not be the greatest craft geniuses. It only takes these six steps.
Unlike many costume wings, our fairy wings are not made of cardboard, but consist of a stable wire frame. Simple cling film forms the material basis and gives the magical wings a delicate appearance.
You need this to make the fairy wings yourself
Wire in two different gauges
cling film
rubber bands
adhesive strips
glitter glue
scattered glitter
If necessary, paper and pen to create a template
Short connection part eg a stick
Handicraft instructions: This is how the elf wings succeed without any problems
Step 1
Bend the contour of the desired wing out of the harder wire. It's easier if you draw a template on a piece of paper and bend the wire along the painted contour. Then stabilize the shape with some thin wire cross braces. The larger the wings are, the more they lose stability. Work in enough cross braces so that the wing stays in the desired position. Smaller wings are recommended for children's costumes, so that the costume does not interfere with playing and dancing.
Tip: In order for the wings to be symmetrical, it is advisable to bend the second wing along the first. Don't despair if the shape doesn't stay the way you want it to at first. With the cross braces, everything can be held in place.
step 2
Now seal the wire ends with scotch tape so that your child cannot injure themselves on the sharp ends.
step 3
The wire framework must then be wrapped in cling film. The foil usually sticks by itself, but you can also help with some adhesive tape. Make sure the shape of the wing is maintained.
step 4
Now decorate the wings to match the costume. In our example we used glitter and metallic pencils as well as sprinkles of glitter to create a dragonfly-like impression. Another option is to leave the wings unpainted and transparent, for example for a bee costume.
Example 5
Now attach the wings to the connector. Use wire to stabilize the pair of wings or quartet. To hide the connection point, you can also apply some glitter here.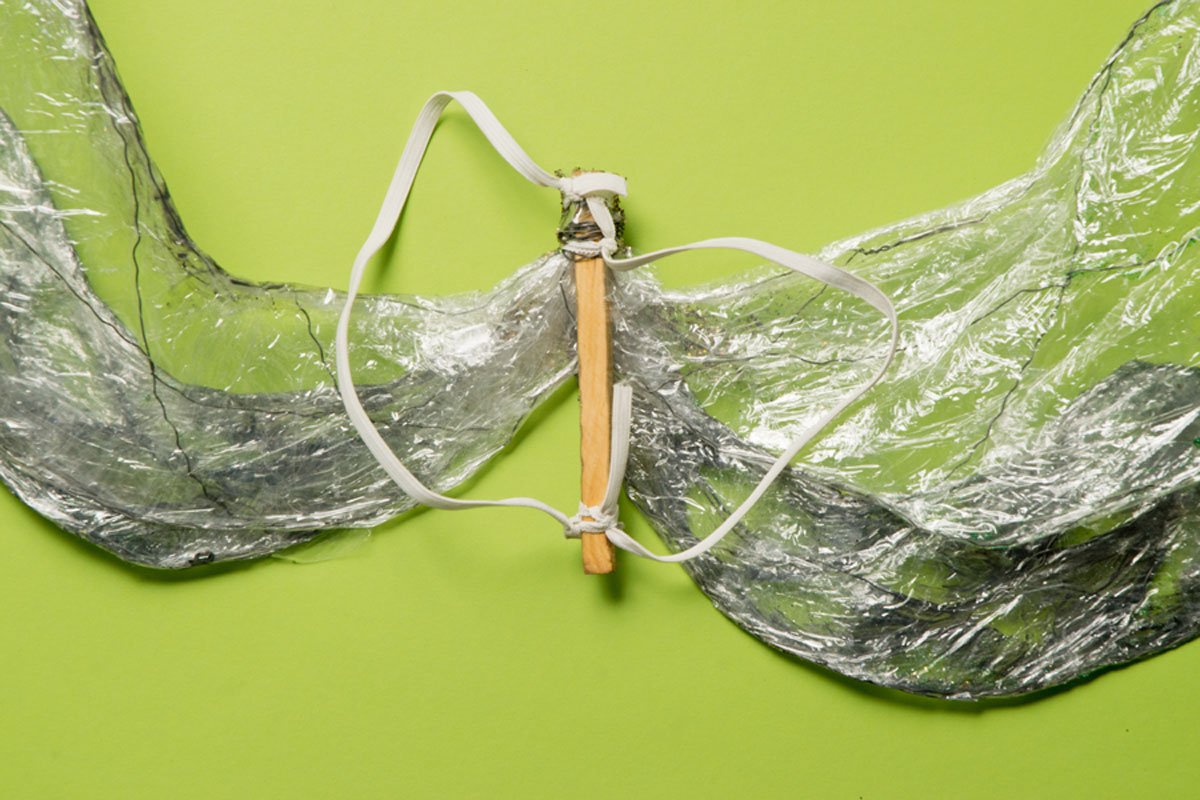 step 6
The final step is the elastics to attach the wings to the back. Simply attach two loops to the connector. The wings are worn like a backpack. Finally, you can bend the finished wings on the back.