In addition, both cross machines should be able to be transported at the same time, which was not possible until then with the motorcycle rail attached in the middle.
Since I occasionally want to transport other motorcycles and also own a street machine, I wanted to build the stands variably for different wheel sizes and enable the conversion to be largely tool-free.
Material list
3 mx square tube | steel (40 x 4 mm)
3.5 mx flat steel | steel (100 x 4 mm)
1,5 m x Winkelstahl | Stahl (40 x 40 x 4 mm)
1 mx rod | stainless steel (8mm)
4 x spring clamps | stainless steel (2mm)
10 x end caps | plastic (for 40 mm square tube)
Lack (Rostschutz)
1 x OSB-Platte (optional) | Holz/OSB (1 x 2 m)
8 x washers (8.5mm)
Let's go – step by step
1 Planning in Sketchup
In Google Sketchup, I drew up a plan by scaling a rough model of a wheel to determine the required dimensions of the stand based on that model. This was then largely done by eye and the measurements determined were then rounded up and down.
With the list of materials based on this plan, I drove to my trusted steel dealer and got the necessary components.
2. cutting
An advantage of already planning in Sketchup to scale is that you really just have to cut the individual parts piece by piece without having to think too much about it. The cutting was completed within a few hours. Unfortunately, I don't have a cold circular saw or stationary metal band saw for this, which is why I had to transfer the measurements around the workpiece and cut each side individually in order to get the necessary precision, especially with miter cuts. I mostly used my angle grinder (hereinafter referred to as Flex) with a cutting disc and then a grinding disc to break the sharp edges for welding.
3. Device made of OSB (optional)
Since I wanted to build two identical motorcycle stands and didn't want to do a lot of knifework and alignment with my two cheap and far too weak magnetic brackets, I had the idea of ​​building a template out of OSB, into which I simply clamp the parts to fit, with screw clamps fasten and then weld in peace.
Said and done. I simply used an OSB board, aligned the parts on it and then shot OSB scraps into the appropriate places with my nail gun until I had a – admittedly not pretty – but very helpful template.
4. welding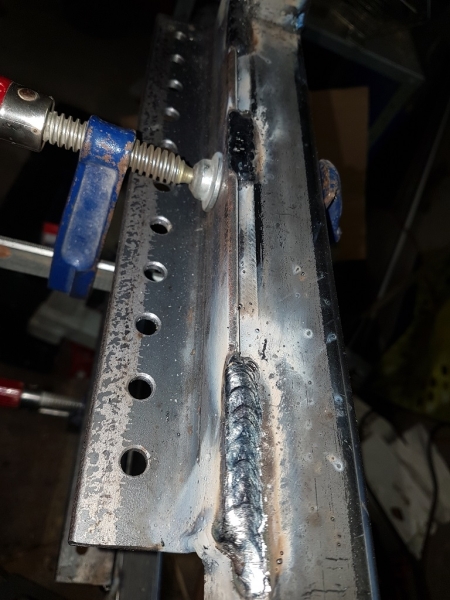 Since I don't have much experience in welding, as became clear in my grill grate project, and I don't do it often either, I had to fiddle with it a bit before using the seams. After a while, however, these could be seen, although I found that I had considerable difficulties welding fillet welds and vertical welds. A lot of time was lost here, in which I always clamped my workpiece in the vice to bring the area to be welded in a horizontal position to make welding easier for me.
I separated or sanded really bad seams to re-weld them because it was important to me that they held up properly.
For the wheel rockers, I cut material out of a thick-walled manhole cover, cut the areas to be bent in half with a flex and cutting disk, then brought them to the desired 10° angle with a hammer and anvil and welded the weak kinks again.
5. adjustment
In order to make the stands variable, I drilled through holes in the cut angle steel and the vertical steel tube so that I can easily move the corresponding brackets over inserted round rods. In this way, the brackets can be individually adjusted to fit different wheel sizes.
In order to enable the change without tools, I drilled holes in the rods again so that metal cotter pins fit in for security.
6. Livering
To protect the two stands from rust, I took them apart and painted them. I still had black anti-rust protection, which had a significant impact on the final coloring of the workpieces…. 🙂