With a plant stand you can put your most beautiful plants on a pedestal. In our assembly instructions, we show you step-by-step how you can build a modern plant stand yourself from simple flat strips. The plant stand not only puts your plants in the limelight, but also brings the trendy mid-century flair into your urban jungle .
You need this for your wooden plant stand
Everything you need for your wooden plant stand can be found at your store:
material
4 beech flat strips 2100 x 40 x 20 mm
1 pack of beech wood dowels 8 x 35 mm
1 tube of wood glue 250 g
Tool
cordless drill
Wood drill 8 mm
Wooden dowel set / dowel gauge
hand saw
miter box
jigsaw
Hand sandpaper set
wooden clamps
folding rule
carpenter's angle
pencil
Build your own wooden plant stand
This is how you can build your plant stand out of wood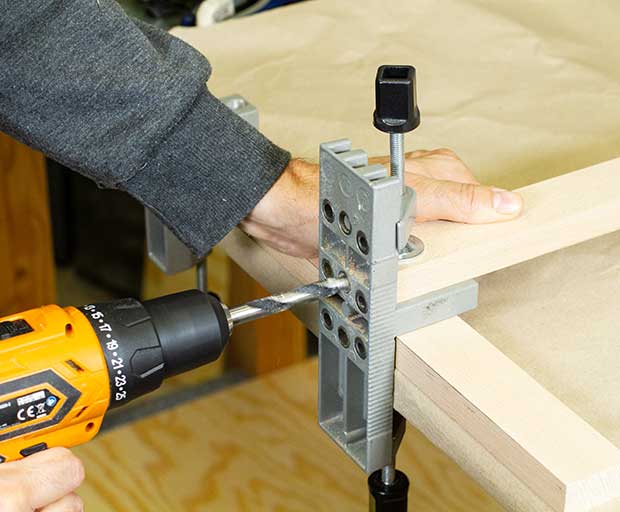 Our plant stand consists of four feet and a cross in the middle connecting the feet. Saw all the strips you need and make a notch in the middle of the two pieces of wood that will be used to build the cross so that they can be stuck together. Using a dowel jig, holes are drilled at the points that are to be connected with dowels.
Some glue is injected into the dowel holes before the dowels are inserted – then apply glue to all connecting surfaces. You can wipe off excess glue with a damp cloth as long as it has not yet dried.
Screw clamps are now needed to press the freshly glued wood together. Use a spirit level to check that your feet are vertical. Check the manufacturer's instructions for when the glue is completely dry. Only then should the screw clamps be loosened. Now you can design your plant stand as you wish. You can leave the wood natural and wax or oil it. You can also glaze or paint it in your desired color. You can achieve a special effect if you paint individual areas in a geometric pattern.